£

10.00
A Tale of Two CDs - Double Album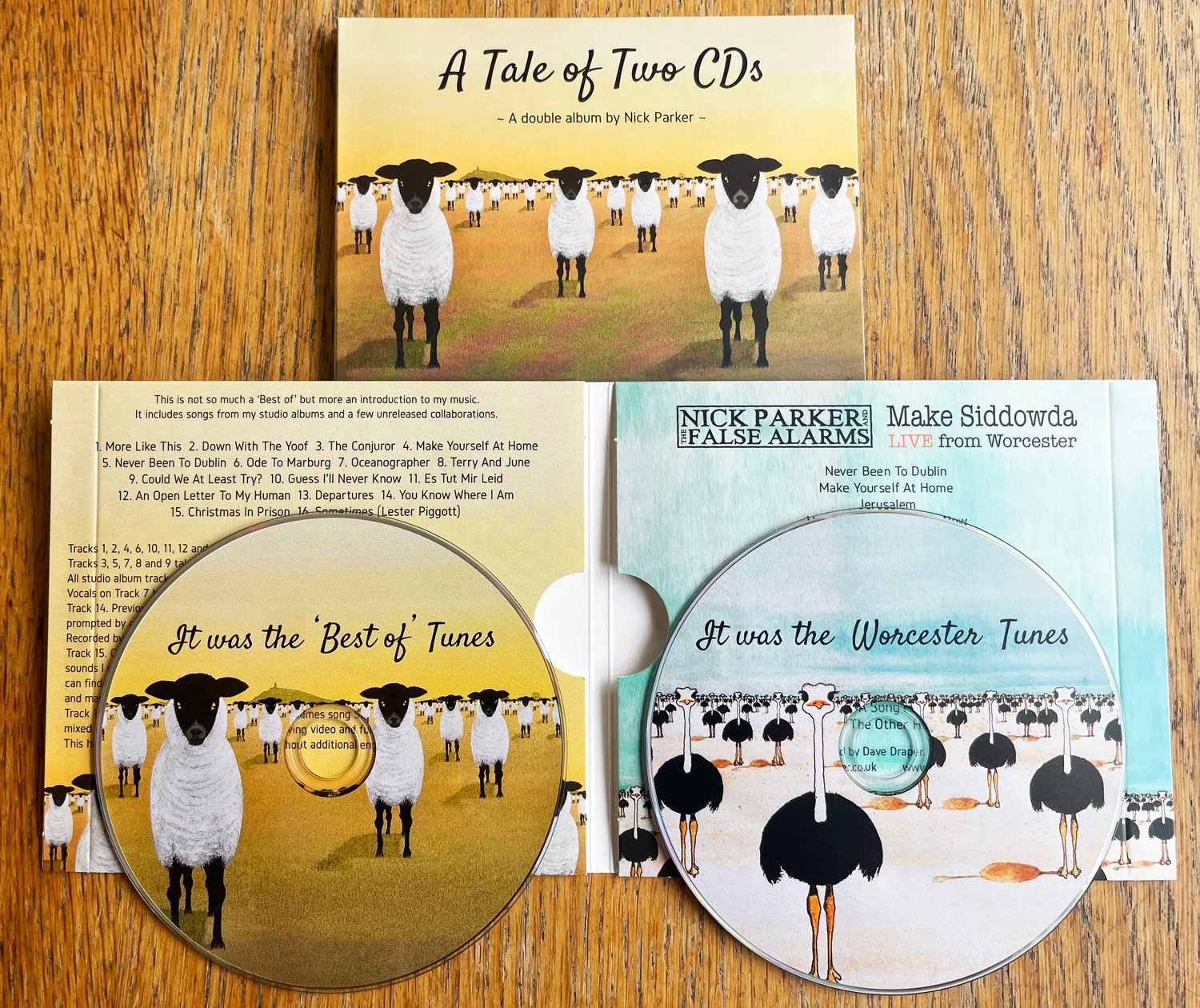 Please note that this is not a new release as such - I sold out of all my CDs so made this to sell at gigs. There are only three songs that were not on previous albums - but those three are available on YouTube.

CD1 It Was The 'Best of' Tunes.
This is not so much a 'Best of' but more an introduction to my music, which includes songs from my studio albums and a few unreleased collaborations.
1. More Like This 2. Down With The Yoof 3. The Conjuror 4. Make Yourself At Home 5. Never Been To Dublin 6. Ode To Marburg 7. Oceanographer 8. Terry And June 9. Could We At Least Try 10. Guess I'll Never Know 11. Es Tut Mir Leid 12. An Open Letter To My Human 13. Departures 14. You Know Where I Am 15. Christmas In Prison 16. Sometimes (Lester Piggott)
Tracks 1, 2, 4, 6, 10, 11, 12 and 13 taken from Besta Venya 2017
Tracks 3, 5, 7, 8 and 9 taken from Angry Pork and the Occasional Bird 2014
All studio album tracks recorded and mixed by Luke Stidson
Track 14. Previously unreleased song, co-written with Sara Benham – prompted by a radio challenge to 'write a song that is a bit Coldplay' – Recorded by Ian Miller and mixed by Luke Stidson.
Track 15. Cover of John Prine's Christmas in Prison recorded at home in 2020 using sounds I could find around my house. This features my daughter Flo Parker Bombosch and you can find the video on YouTube should you need to know what all the sounds are. Recorded, mixed and mastered by me!
Track 16. Summer lockdown collaboration of the James song Sometimes (Lester Piggott). Mixed and mastered by Dave Draper and full credit list can be found on YouTube.
This half of the album wouldn't be possible without the additional engineering and mastering by Joel Howe.
CD2 It Was The Worcester Tunes.
Make Siddowda LIVE - full band live album recorded in Worcester in January 2020.